Perché fare un altro Makey Makey?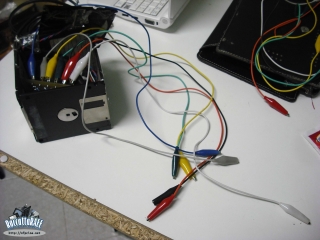 MaquiMaqui, inspired by MaKey MaKey, a version of MaKey MaKey that can be made at home with DIY techniques
"vista una cosa si può provare a ricrearla, .."
Innanzitutto occorre la premessa che il nostro non vuole essere una versione low cost del Makey Makey realizzato dal M.I.T. a cui ci siamo ispirati, sebbene il costo effettivo per la sua costruzione sia intorno ai 2$ contro i 49,95$ dell'originale. E' piuttosto un tentativo di poter creare qualcosa sfruttando ciò che si ha a disposizione, spesso senza farci caso, come una vecchia tastiera IBM compatibile datata 1997 destinata probabilmente a diventare un ecosistema popolato da acari in cima a qualche armadio polveroso.
Accértati che il controller al suo interno funzioni ancora e con alcuni componenti elettronici saldati su una basetta millefori riesci ad ottenere una consolle collegabile al PC come una comune tastiera, col vantaggio di poter generare 6 caratteri tra quelli normalmente disponibili utilizzando dei tasti "fantasiosi" come frutti, ortaggi, vaschette d'acqua ecc. Continue reading →